Frequently Asked Questions
Find answers to some of our customers' and visitors' most commonly asked questions. We hope this section will help you quickly and easily get the necessary information.
In case there are any errors with conversations, and you need to contact the Convrs Team, here are the things that you need to provide before doing so:
User ID of the conversation with the error
Go to your conversation and copy the User ID on the lower right side indicated by the red box.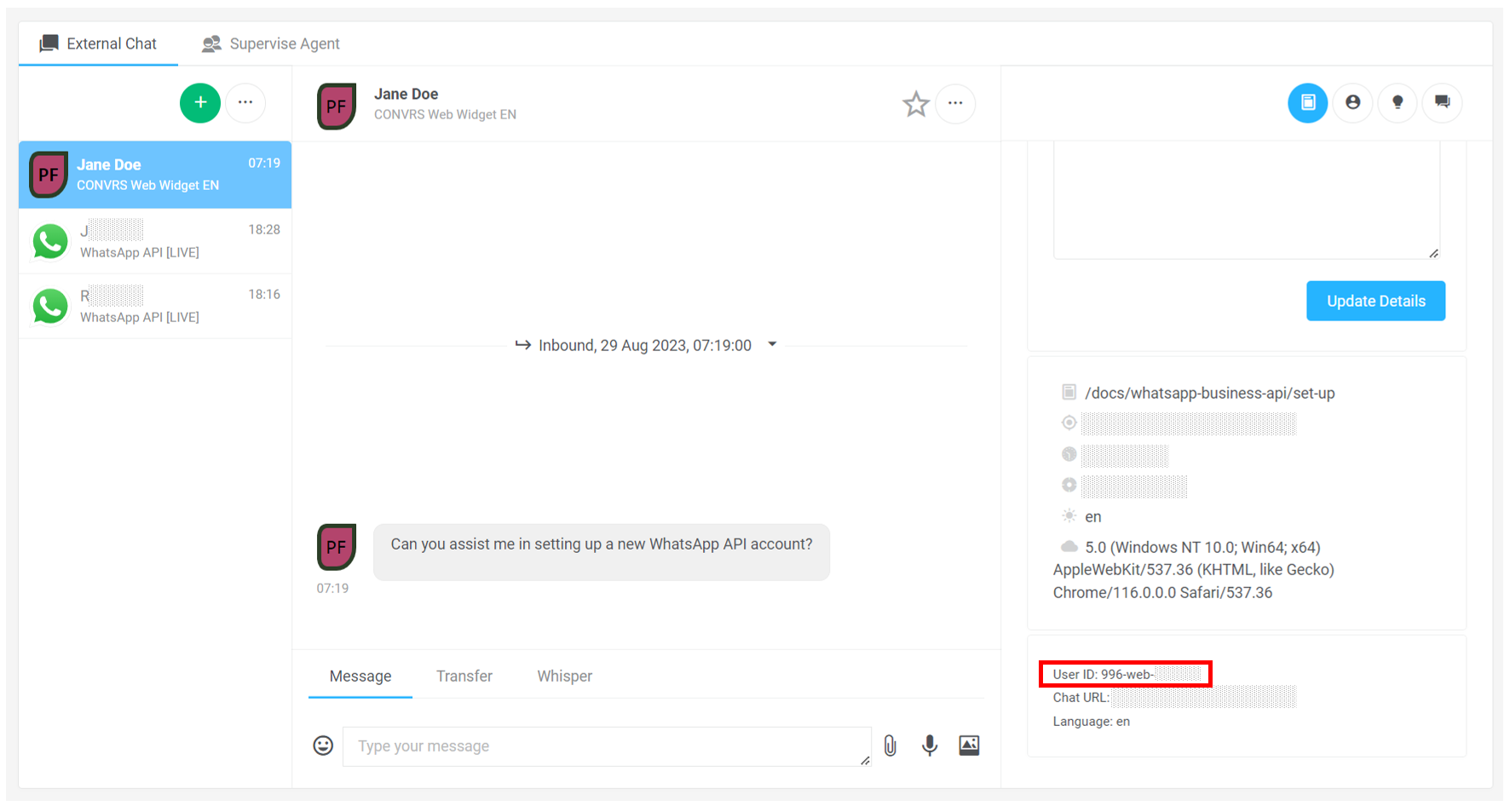 Bot ID of the conversation
If you have the appropriate permissions, on your Convrs dashboard, go to Bots → Show all Bots and find the exact Bot. Copy the Bot ID number as indicated by the red box.

The bot ID is usually optional, but it would be much appreciated if you could provide the information to the team.
When possible, please provide screenshots as well.
Convrs Account
Can multiple agents login simultaneously with the same login credentials?
Multiple agents cannot login simultaneously using the same login credentials. Each user login is unique within Convrs. This also means that you cannot log in with the same username/email to another dashboard if your company opts to have more than one.
Why can't I log in to my Convrs account with my correct login details?
Kindly check with your Dashboard Administrator how your account was set up. The username/email field is case-sensitive. Ensure that the username/email you're trying to log in with is the same as how it was created in the system.
For example, in the system, your email was set as abc@Company.io. It will not recognize it if you try to log in with Abc@company.io and will register it as incorrect.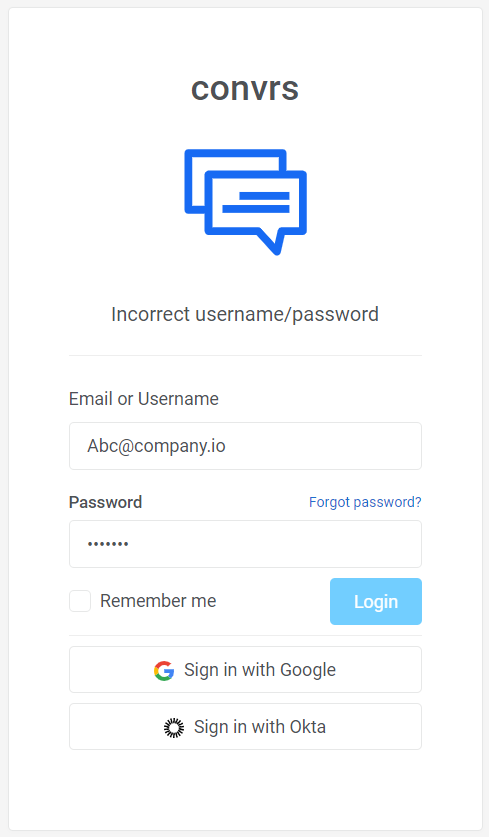 Why am I locked from my Convrs account?
Your Convrs account will be locked if there are too many wrong login input attempts. Kindly contact your dashboard administrator or Convrs Customer Support Team to unlock it.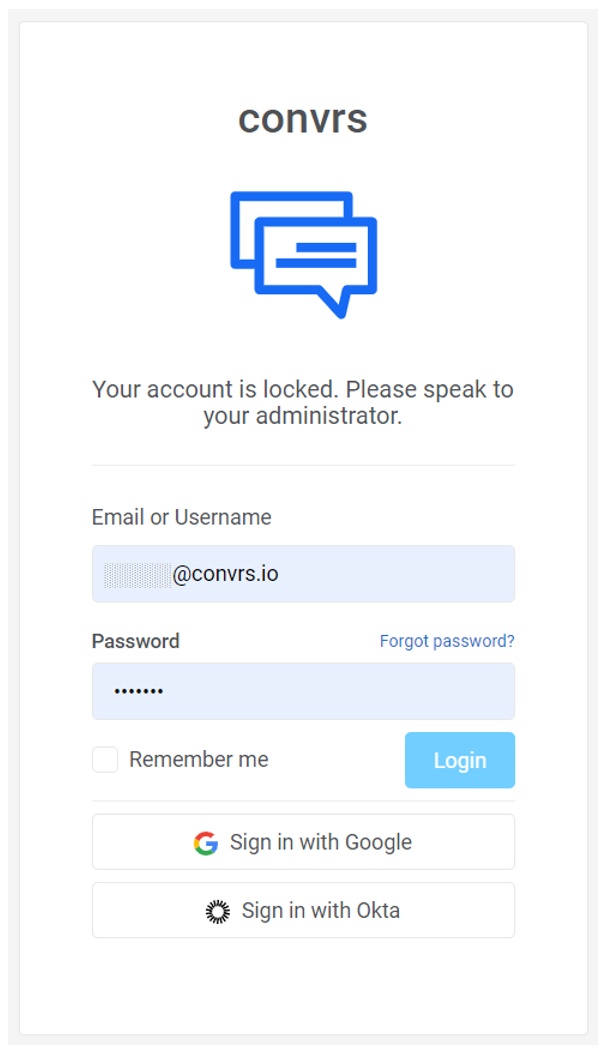 Why does my dashboard keep logging me out?
If your network connection is unstable, you will be logged out from your dashboard. Check your network connectivity, and if it still keeps on happening despite the network stability, please contact your Convrs representative.
How can I export the data from a specific report?
Convrs doesn't currently have an export option for the reports. In case you want specific data to be exported, please don't hesitate to coordinate with the Convrs Team for help.
How many languages can we set for the agents?
Currently, you can only set your agent to one language.
Does our Convrs invoice update automatically when we remove agents?
The invoice doesn't update automatically when you remove agents. In case of any questions or concerns about your invoice, kindly coordinate with your Convrs account manager.
Active Chats
How do I adjust the text box?
You can adjust your text box by dragging down the two diagonal lines on the bottom right of the text box.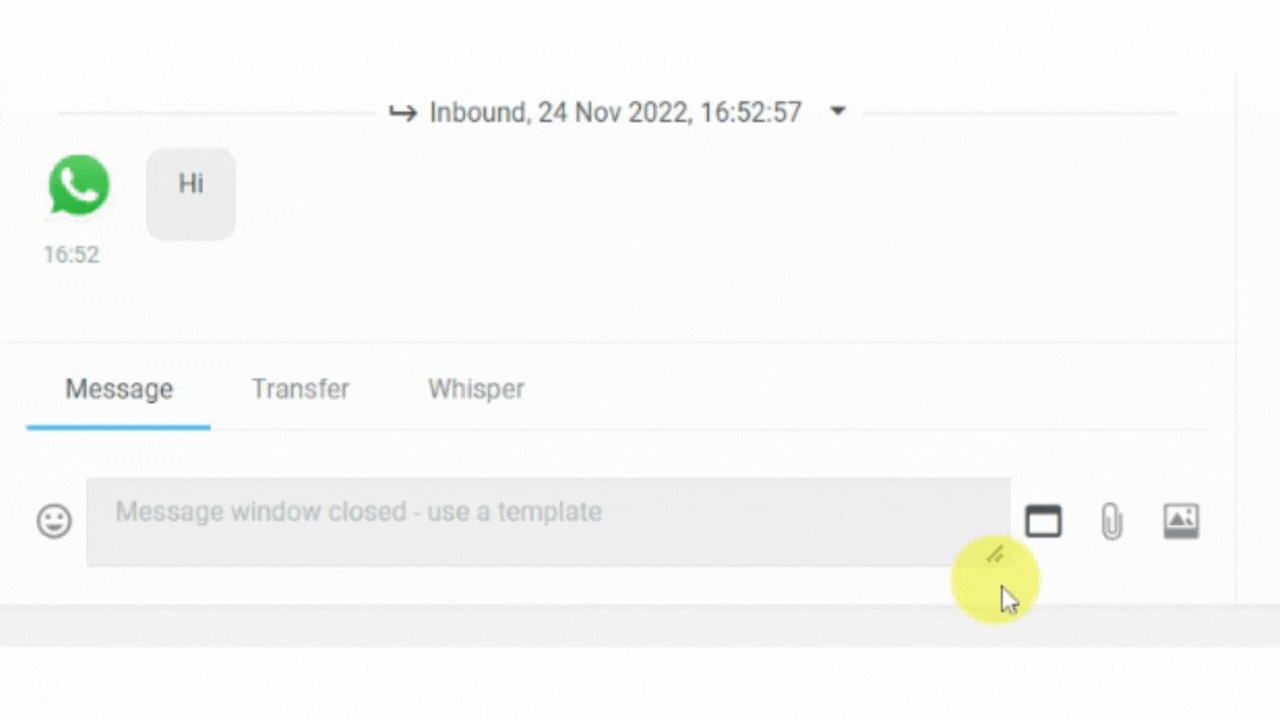 Why is the Agent Supervise module slow?
Double-check how many chats are open. You may need to close older chats to free up some space. Contact your Dashboard Admin or Convrs representative if the dashboard is still slow despite closing a significant number of chats.

What do these messaging error icons mean?
Red Circle Error
This error is mostly seen for WhatsApp Business API. You can hover on the icon to see what specific error was detected. It could be that the end user doesn't have WhatsApp installed on their device, or it may be that the conversation credits for the number need to be replenished.

Red Triangle Error
The red triangle error means that the message was not sent. For Facebook, it's most likely that the messaging window has closed. If you see this on your SMS messaging channel, please get in touch with Convrs support.

Clock Icon
You might encounter the clock icon on the web chat or WhatsApp. If on web chat, this would most likely mean the client has left the conversation by closing the tab or the browser. On WhatsApp, it may mean that the message is waiting to be sent because either the client's account is not connected to the network i.e., there is no internet or the device is off, or there is a server issue.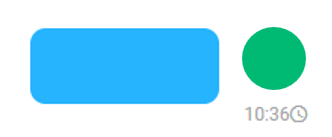 Why can't I reply on WhatsApp Business API?
This means the 24-hour period has elapsed since your last message to them. To reopen a conversation, you need to send a template. Press the template icon and choose the message you want to send out.
Why can't I reply to a Facebook Messenger Conversation?
Like WhatsApp Business API, it's a Meta rule that you must reply to a message within 24 hours, or else it will close the chat. However, their email and phone numbers are likely captured by the system (if part of the flow design), which could be used for a proactive follow-up.
Why is our Telegram Bot missing?
This is most likely due to Telegram deleting the bot because of the account's inactivity. Ensure messages are sent and received from the account (on the designated device) at least once every three or four months. This way, the account will remain active.
Unfortunately, you cannot restore the bot/account anymore. In this case, you must create a new Telegram bot via BotFather to link to your widget/dashboard.
Can I initiate a translated message?
You cannot initiate a translated message when doing a proactive outreach. You must have had prior interaction with the client using the auto-translation tool.
Why is there a translation error?
You may encounter translation errors when the end user sends just a word or a short phrase or when they switch languages mid-conversation. In the event this happens, you can try to 'reset' the translation by clicking the three dots on the right of the message and pressing Turn off auto-translate. After which, turn the translate option on again.
If this doesn't resolve the error, kindly contact your Convrs representative.
What are the blank messages being sent on WhatsApp API?
Most likely, these are reactions to your messages. Unfortunately, since this is currently a WhatsApp API limitation, it appears blank on the dashboard.

How is data captured?
This largely depends on the messaging channel they are engaged in and the flow you've determined upon creating the bot for the messaging channel.
For example, some data can be automatically pulled, such as the name they set for their profiles on WhatsApp, Telegram, Messenger, LINE, and Viber. On the other hand, mobile numbers can also be automatically pulled from WhatsApp conversations.
However, as determined in your flow, you can also ask for a customer's phone number and email address. These two are the standard contact methods available in your flow settings.
What happens to messages before voluntary data capture?
Conversations in Convrs are designed so that the bots capture initial data either automatically pulled from the messaging channel or the customer voluntarily gives (i.e., email and telephone number in a web chat) to be stored in the system or your local CRM. If the flow is designed to begin with a voluntary data capture, only the messages sent after the 'routing to agent' trigger will be delivered to the agent's inbox. The agent cannot see any freeform messages before the trigger.
Remember that before data capture, no agent has been assigned.
Why are there blank conversations on our Users page?
You may find these types of conversations on your Users page. This is when end users started to engage with the bot, possibly even giving out some data, but did not proceed to send their message to be routed to an agent.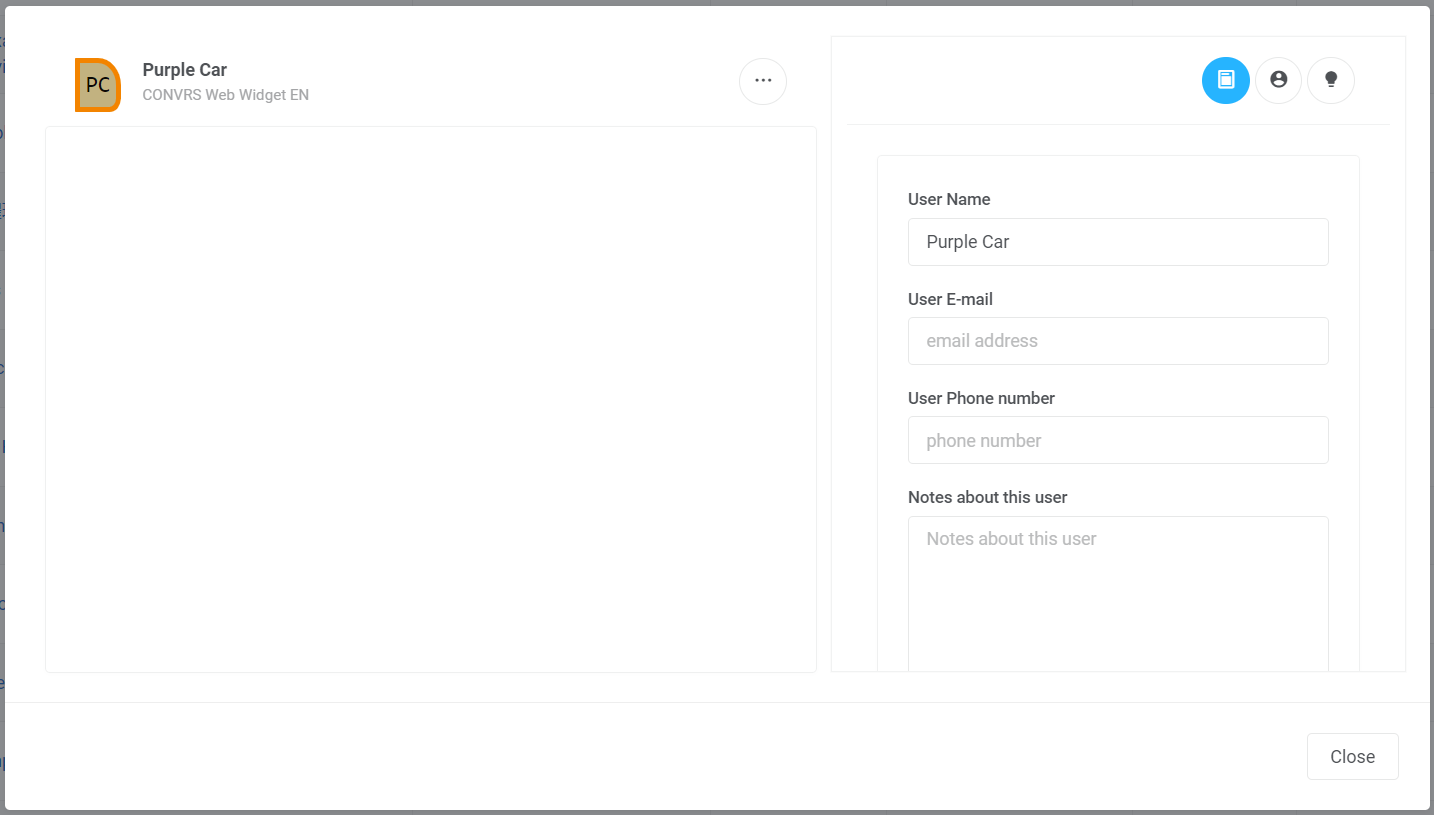 If you want to see where they stopped in the flow, copy their UserID, go to Agent Management → User & Bot Chat History, and paste it on the name of user field.

What happens when an agent is not available for a chat?
If a chat is sticky with an agent, the system will wait until the agent is free before passing it over to someone else. If the conversation is not sticky, the system automatically passes the conversation to a free agent in the same business unit. If none of that business unit's agents are available, it will designate the customer to the following business unit sequence.