The Agent Chat page is where you can find the omnichannel inbox for each agent. An agent is only able to view two of the three pages available on this menu item.
Active Chats: Access your own omnichannel inbox as well as view and manage other agents' chats through the Supervise Agent* tab
All Closed Agent Chats: Filter and access the logs of all closed chats
My Closed Chats: View the logs of your own closed chats
*Only those with the proper permissions can view the Supervise Agent tabs. Regular agents are only able to view their own inboxes.

At Conv.rs, we encourage you to understand the tool to get the most value. If you are in charge of your organization's Admin role, please take the time to read all the basic concepts. Whenever you have a question, please get in touch with the Conv.rs team and we will be happy to help.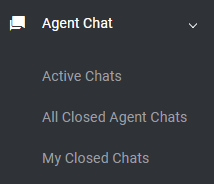 [RO1511v1]
[JC161122v1]