The Agent Management menu helps you organize, track, and update information on your agents. The following pages are available:
Create New Agent: Add agents to your dashboard
Agent Status: Track agent status and do bulk action items such as transfer and unstick users
User & Bot Chat history: Show a user's chat history in a specific bot they interacted with
Agent Chat history: Access a specific agent's chat history
Manage Agent: Update agent details as well as disable their access to the dashboard
Agent Replies: Create quick replies on an organizational level for agents to use
User Chat History: Allows to search for a specific user through name or email address and view the transcript of their chat
At Convrs, we encourage you to understand the tool to get the most value. If you are in charge of your organization's Admin role, please take the time to read all the basic concepts. Whenever you have a question, please get in touch with the Conv.rs team and we will be happy to help.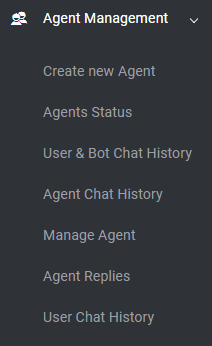 [RO1411v1]
[JC161122v1]