Chatbots are the vehicles that deliver the flows you've designed on the dashboard as well as integrate into platforms like MT4/5. They can also be used to engage prospects and do repetitive tasks, such as qualifying leads and signing up for demo accounts. They can also pass off the customer to a live agent if it is part of the flow design.
On the left main navigation menu, Click on 'Bots.' The following dropdown sub-menu options should appear:
Create a new bot: Choose from a variety of available channels and create a bot accordingly.
Show all bots: View all existing bots and edit the routing channels, set up the automatic translation rules, and more.
If you need assistance, we are more than happy to help. We are here to aid you in automating some processes so you can focus on offering a premium omnichannel experience for your customers. Please contact your Convrs representative for more information.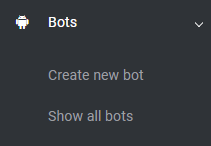 [RO2211v1]