The following pages fall under the Administration menu:
Business Units: Create and delete Business Units
Organization Profile: Set the essential information for your Organization profile, such as office hours, agent chat handling options, and password policies
Roles and Permissions: Create roles and associate the necessary permissions for each
My Profile*: Edit your own general information, update your password, and set your notification preferences
Manage Phones: Ensure your organization's WhatsApp Outbound instance is connected to the dashboard
*All roles may access this page
At Convrs, we encourage you to understand the tool to get the most value. If you are in charge of your organization's Admin role, please take the time to read all the basic concepts. Whenever you have a question, please get in touch with the Conv.rs team, and we will be happy to help.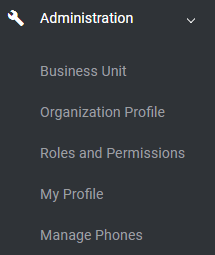 [RO1411v1]
[JC1611v1]